Brief  Project Background
Women all over the world play a fundamental role in ensuring that a household's welfare is affordable especially when their husbands are the bread winners. Given the economic crisis under which we live today, in order to maintain a basic household livelihood standard, it is important that women support their husbands financially in ensuring that a households livelihood doesn't follow below the required standard. In 2020 we (RDAA) developed as project proposal which received funding from Ugandan Partnership to support women in Yambio through empowering them in value addition in agricultural produce. with funding available, we randomly selected women within Yambio County, empowered them in adding value in agricultural produce, trained them in basic financial literacy and then extended a loans to them as startup capital to invest into small business so that they can be in good positions to support their households. After the success registered phase  in the first which lasted for three months with 20 women, we have carried out two  more phases involving 17 women each that were also successfully implemented making a total of 54 women by 2022 who have benefited from this initiative.
Empowering women in value addition in agricultural produce
Implemented in Yambio County, Western Equatoria State –  South Sudan
Photo: A project team lead by Mr. Mungua Anthony, facilitating a Basic financial literacy training to the selected women before supporting them with loans

Photo: The state minister for co-operatives and rural development, Western Equatoria State, Hon. Mark Yona handing over the loans to the women as financial support for them to start investing.
Photo: One of the beneficiaries adding value to agricultural produce, producing a product called Tahamia (Cassava flour molded balls fried in palm oil)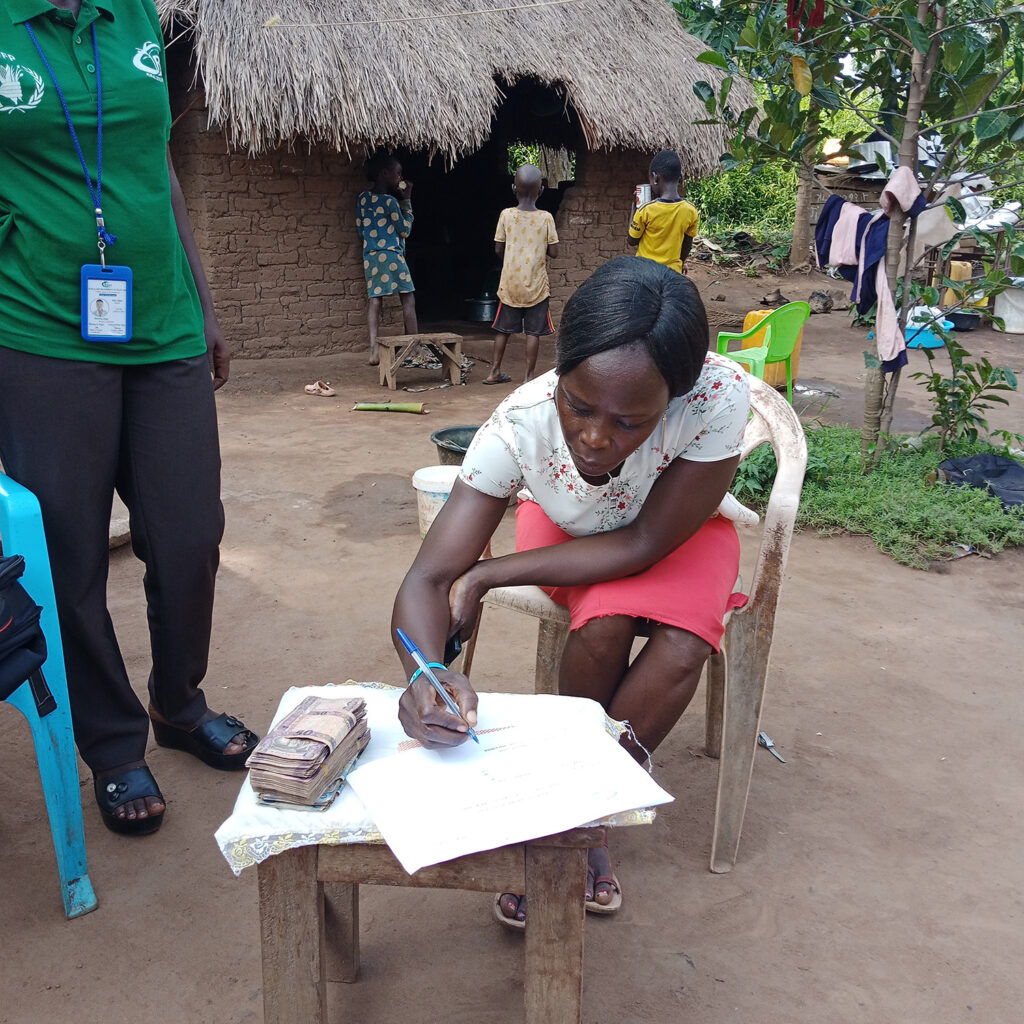 Photo: The chairperson of of the women group in Ngindo signing the loan refund sheet as required by the financial support agreement
Photo: A member of the group in Duduma at her home preparing her Mandazi to be sold as a source of improving he house holds income and livelihood.
Photo: One of the project staff following up a beneficiary's book keeping records in Duduma area, ensuring that what was taught during the Basic financial literacy training is put to good use.
Success Story:
While Implementing the project, the project team carried out a survey of the projects impact on individual women and from there testimonies, a number testified to the financial support having changed their lives and helped them improve the household income levels. Among the positive impacts they expressed are:
Being able to pay the children's school fees
Being able to provide all basic household requirements like salt, sugar, soap, lighting and above all food
Being able to pay for medical bills for them selves and their children
Being able to financially support their husbands more than before
Being able to buy mobility means like a bicycle