Promoting peaceful co-existance and social cohesion in South Sudan (2022)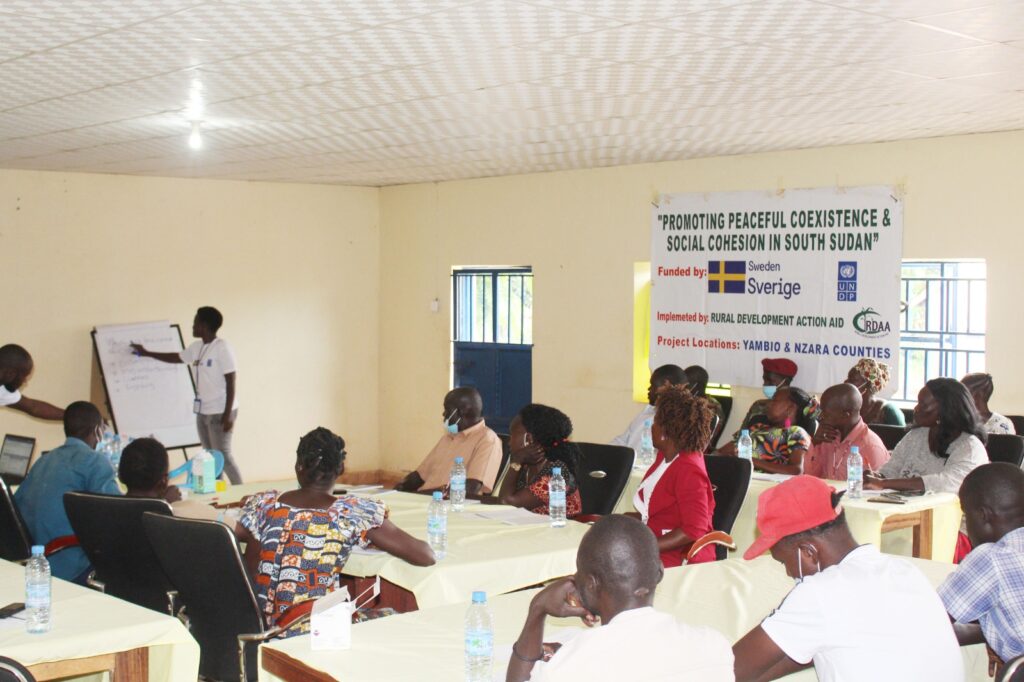 Access to Justice, Security and Human Rights Strengthening Program (2021)
Advocacy on inclusive Dialogue, Reconciliation, Healing and Social Cohesion (2020 - 2021)
- Maridi County
- Nzara County
- Yambio County
5 sessions conducted on Commission for Truth, Reconciliation and Healing (CTRH)
8 sessions conducted on women participation in Peace and Governance processes
5 sessions conducted on intergeneration dialogue
5 sessions of dialogue conducted between security forces and civilians
9 sessions on community mobilization and reconciliation initiative
Strengthening Communal Peace and social cohesion in South Sudan (2019)
Trained youth ex-combatants on Carpentry and tailoring in 8 locations.

Trained vulnerable women groups in Tailoring in 8 locations.

Conducted 10 radio talk shows.

Provided advanced carpentry trainings to 25 youth at ST. Joseph carpentry and jointly workshop.

Conduct peace building workshops

Conducted Basic financial literacy skills.
Empowerment of ex-combatants with seed money for tailoring to improve livelihood and enhance peace and community cohesion (2018)
Training youth and women as agent for reconciliation and peace for community cohesion (2017)
Procured assorted farms tools, seeds for selected 20 groups of both youth and women.

6 radio talk shows.

Procured hand crafts tools for 20 groups of both youth and women.

Train ex-combatants on tailoring and carpentry.

Train vulnerable women on Tailoring and knitting.

Train women and youth on farming and piggery.
Yambio Local Football Association Office (2016 - 2017)
Strengthening women and youth leadership in WES (2016)
Nagero Community Centre (2014 - 2015)
Mvolo Community Centre (2014-2015)
"Much thanks to RDAA for bringing such a program to Bazungua, it will be better that the formation of the three commissions should not delay because I am one of the victims who lost 8 people as members of the entire family at spot from gun shoot, all the house property was also looted and houses were destroyed, I will be the happiest if transitional justice materialize in the nearest future"
"I thank RDAA for bringing such awareness to make people understand and know about transitional justice which explained about the rights of people, the formation of the three commissions if is really true will end conflict and bring everlasting peace to South Sudan"
"I appreciate the program and let this awareness cover the state so that all should be aware of traditional justice, I also want to ask a question will the hybrid court truly judge all what happened like the mass killing, destruction of homes, rapping and so on because since the signing of the revitalized peace agreement there is still killing of innocent people by known men in uniform and unknown gun men, and government know about it and no action taken"
"I am very delighted to express my happiness and feelings to the participants, why is it so long to form this commissions? I strongly emphasize that government should hurry up with formation of the commissions to let people's hearts cool down because people are still in great sorrow for many that affected them, how will the anger cool down? People need peace and continue development"